Quotes to inspire Healthy Boundaries in Relationships
For many of us, setting boundaries can be difficult. It doesn't come easily for some but is so good to do. I've put together a list of some of my favorite quotes on boundaries to help inspire you to have healthier relationships. I've also shared what I like about each quote.
When you're struggling, I hope you use these as reminders of why you're working so hard to take care of yourself and why boundaries are a good thing for everyone.
"No" is a complete sentence. – Annie Lamott
Sometimes we feel the need to offer an explanation for our decisions but no is an answer and is sometimes enough. No further explanation needed.
When we fail to set boundaries and hold people accountable, we feel used and mistreated. This is why we sometimes attack who they are, which is far more hurtful than addressing a behavior or a choice. – Brené Brown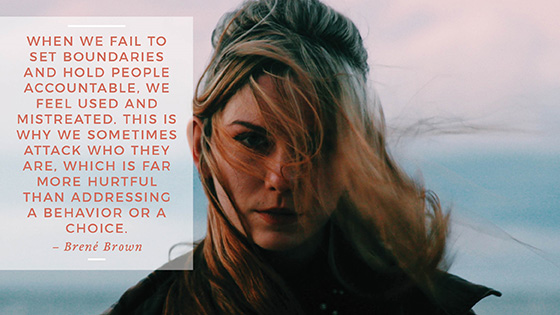 This is an awesome quote because it's so true. In a way, by not setting boundaries you allow yourself to be mistreated and that isn't fair to you. You deserve better.
Every healthy marriage is composed of walls and windows. The windows are the aspects of your relationship that are open to the world—that is, the necessary gaps through which you interact with family and friends; the walls are the barriers of trust behind which you guard the most intimate secrets of your marriage. – Elizabeth Gilbert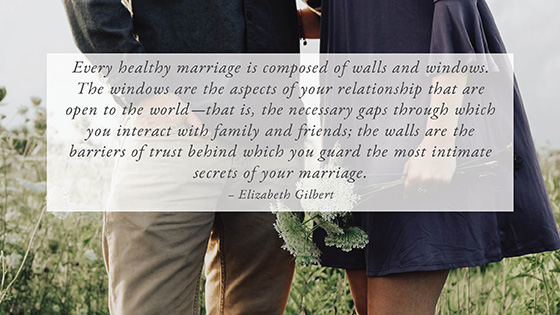 Everyone doesn't need to know about what goes on inside your marriage. Protect your marriage by establishing necessary boundaries.
Daring to set boundaries is about having the courage to love ourselves, even when we risk disappointing others. – Brené Brown
This author is on my list twice because I have so much respect for her work. Setting boundaries does take some courage but you can show up for yourself in a way that no one else can.
You best teach others about healthy boundaries by enforcing yours. ― Bryant McGill
Lead by example. You'll be surprised just by how favorably people respond when you try to set boundaries.
We can say what we need to say. We can gently, but assertively, speak our mind. We do not need to be judgmental, tactless, blaming or cruel when we speak our truths. ― Melody Beattie
Don't confuse setting boundaries with being mean and nasty. You can set boundaries with compassion and love.